The Holy Place of Omkareshwar - India
Namaste
to you all, well it was time to leave for my next adventure. I'd been told that there was a small out of the way village called
Omkareshwar
. It's described in the Lonely Planet book as a place more geared for pilgrims rather then tourists(they also say that there's no
ATM's
there, well lucky for me there is now, because I forgot to get any money out it was a great little experience to just let go and trust that I'd be alright). Well say no more, I certainly love seeing the touristy places, but for me I probably get just as much enjoyment if not more at visiting the out of the way places.
Omkareshwar
is a very important little village as far as the Hindu religion goes. It has one of the twelve
jyothi
lingams
scattered throughout India there. What is a
jyothi
lingam
? it is the holy symbol of Lord
shiva
that is considered quite sacred and worshipped with devotion by the devotees. It is considered the foremost sacred symbol for
shaivaites
and has been worshiped for ages. The significance of the
shivalinga
is that It is the resplendent light (flame) form of the Supreme - solidified to make the worship of It easier.
I finally got a sleeper bus again which made me very happy, though I was concerned a little bit when I asked the driver and his helpers to wake me up when we get near the turn off to
Omkareshwar
. As usual they smiled and nodded their heads with a defiant shake of the head. After all this time travelling through India I still feel an uneasiness when an Indian shakes his head with what we would think was a no, but to them most of the time it means yes. So off to sleep I went and low an behold at around four o'clock in the morning, the bus stopped and I was woken by three smiling Indians gesturing that I'd arrived at my destination. I guess they knew
Shivaratri
was in a few days and were probably excited that a foreigner was interested in such a festival.
Shivaratri
is a Hindu festival celebrated every year on the 13
th
night/14
th
day in the Krishna
Paksha
of the month
Maagha
(February) in the Hindu Calendar. The most significant practices on this day are offerings of
Bael
(
Bilva
) leaves to the Lord Shiva, fasting and all night long vigil.
Well I stumbled off the bus still have asleep, it was still dark and I realized the town that they dropped me off at only consisted of a few shops, it really was just a stop off point to catch another bus out to
Omkareshwar
. I walked over to a little shop where a man was still awake, I asked could I get a
chai
tea and as usual he obliged. Well before I knew it as the sun was rising all the Indians started stirring, coming out of places I didn't think a human being could possibly sleep. Pilgrims started arriving from everywhere, the little man gestured for me to jump on the little bus now(I guess so I could get a seat) well thank god I listened, before I knew it there were Indians everywhere within seconds, I got the last seat on the back seat and believe me I thought I'd seen some pretty overloaded buses before but this one took the cake.
So off we went as with everywhere in India everyone was looking and laughing at me, I could see in their eyes that they were trying to workout why a foreigner was in such an isolated place and I guess they were wondering if I possibly I was a pilgrim as well. I finally arrived in
Omkareshwar
as you can imagine it had pilgrims everywhere all here for the festival. I see it would be quite a sleepy little town outside of
Shivartri
. I found a tout and he lead me to a beautiful guest house called
Ganesh
Guest house. I unpacked and had a walk around the town, I could feel the energy of the people and the place lifting in anticipation and excitement for festival. It rubs off on you when there's an Indian festival you cant help but get swept away with it all. I spent three days enjoying all the festivities, I went across the foot bridge to the temple where the Shiva
lingam
was, I could hardly move. I finally let them do their blessing and prayers for me, before I realized what was happening I'd parted with quite a bit of money, oh well they finally got me.
Around this time I realized that I was running out of money and It was time to come back to Australia, my visa was expiring also in about two weeks so I thought it was time to leave this wonderful little town and head back to Delhi where it all started five months ago.
I don't know why I didn't take more photos at this place, especially with all the things that were going on, oh well it might have been showing me it was time to leave India.
Here's some photo's.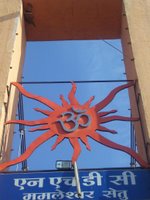 This is a photo of the new bridge that crosses the river from the mainland to the island where the Shiva temple is.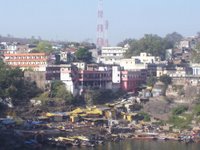 A view from the temple back across the river.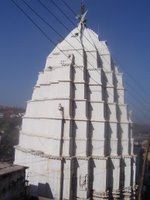 Shri Omkar Mandhata.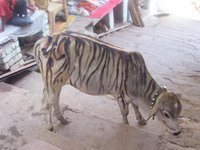 Everyone gets into the festive activities.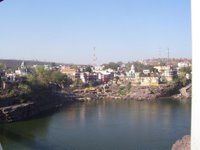 Omkareshwar.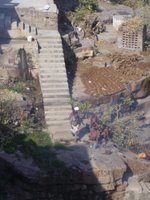 Sadhu's bathing in the holy river, they were gathering in there droves.