Journey Back to Northern India
Namaste to you all, I'm just adding pictures on this post and will write plenty in the next few posts. I'm slowly making it back to where it all started nearly five months ago, boy that's gone quick.
Here's some more pictures.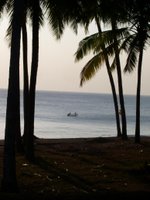 This is the view from my guest house in Varkala, I loved the place the beaches were clean and this time the water was as well.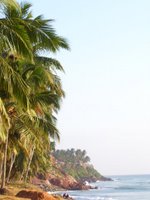 Another view from the little beach just in front of my guest house.
Early one morning a group of fishermen were pulling in their huge net, Balazs was helping them for about half an hour, I finally got there towards the end, thank god it was pretty hard work, perfect timing again lol.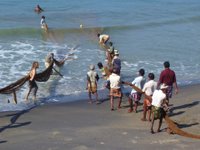 As you can see there were quite a few of us and unfortunately all we got were a few plastic bags and a couple of very small fish, but it was still fun and that's the main thing.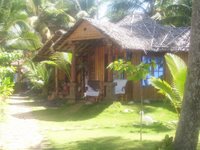 This is some of the accommodation you'll find in Varkala, these bungalows were only set off the beach about thirty metres.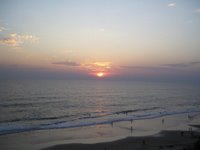 Ah another sunset, this is off the cliff over looking the main beach.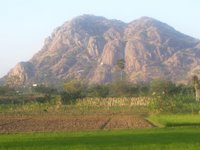 This was taken from the train, the mountain range is the Western Ghats, we were heading to the very southern tip of India.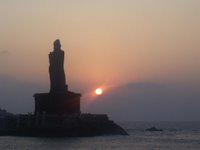 This picture was taken at sunrise in a place called Kanyakumari, which is the furthest most southern point of India. Kanyakumari is the point of confluence of three oceans - the Bay of Bengal, the Arabian Sea and the Indian Ocean.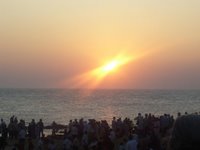 Sunset in Kanyakumari.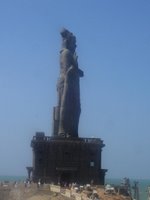 Another picture of the statue by day.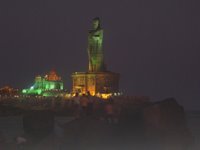 Statue by night.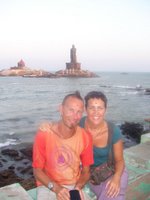 Oh what a cute couple, Pam and Trev spending a lovely afternoon watching the sun go down, with their favorite aussie mate.
WARNING TO VIEWERS, THE NEXT FEW PHOTOS MAY OFFEND OR EVEN SHOCK YOU. KINDLY PLEASE LOOK AWAY OR LEAVE THE POST. CHILDREN UNDER THE AGE OF SIXTEEN ARE NOT PERMITTED TO VIEW.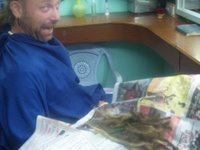 AHHHH!!! yep folks I finally did it, I cut all my dreads off and it ain't a pretty sight lol.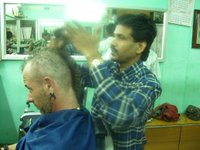 They call him the butcher, do your worse son. Mohawk inspired by Trev the punk.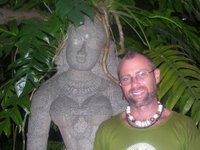 Oh who's a pretty boy then, I met this cold, stone face woman at Auroville, lucky her eyesight wasn't so good lol.