Bonjour from India
Bonjour to you all, you might be wondering why the french, well my next destination is at a place called Pondicherry. Well Pondicherry was a former French colony that was first settled in the 18th century. I think I heard that the French were the last colonial country to pull out of India, they gave it back to the Indian's only about fifty years ago. The lonely planet talks it up a bit, I really don't know why. I went to some of their French restaurants and found the Indian influence to much, maybe in some of the bigger hotels the food was better. There were a few streets that had still remained with that French feel, but I found it to over priced and quite boring.
So I only stayed for a few days and journeyed onto one of the places I really wanted to see and that place is Auroville. Auroville is an international community, a protect if you like for human unity, there are about 1700-1800 residents from around 35 different nationalities. It was started by a French woman called the Mother, she called it 'an experiment in international living where people could live in peace and progressive harmony above all creeds, politics and nationalities'.
Some more of her words 'There should be somewhere upon earth a place that no nation could claim as its sole property, a place where all human beings of goodwill, sincere in their aspiration, could live freely as citizens of the world'. It sounds great doesn't it, but I'm sorry it hasn't worked, she forgot one thing 'EGO' and men's ego at that. There are just as many rules and regulations as the outside world. A few of us felt that because we weren't Aurovillians as they called themselves we were on the outside looking in. I didn't find many of these people with their hearts open. Actually it was quite hard to get any help and some of the people were down right rude.
Sorry guys but we humans at the moment just cant help ourselves from stuffing great ideas like these places up, especially western men with their huge egos. If anyone thinks its all hunky dory there well their kidding themselves. As with most wonderful things that are channelled through people through out time, after a while the original energy or information gets watered down and distorted. I saw lots of little signs around saying "whats happen to our Auroville, there's to many rules and not enough love' or something like that. I heard people arguing and back stabbing other Aurovillians, its no different from anywhere now on earth. Its very dear to stay there, but they do have some wonderful events and workshops. Of coarse It wouldn't be all of the people I certainly don't mean to generalize, but I could feel the energy and it felt abused an distorted. Don't get me wrong this was my experience, always remember no two people will have the same experience, this was just mine and all I can say is I love the concept and would have lived there twenty years ago, but in my heart and what I could see at the moment the original message is lost and of coarse that will change as everything else does.
Here are some more little sayings of mine.
CARE FOR YOUR FELLOW BROTHER AND SISTERS AT ALL TIMES, ASSIST THEM IN ANYWAY POSSIBLE, EVERY SINGLE ONE THAT CROSSES YOUR PATH. EVEN SOMETHING AS SIMPLE AS A SMILE CAN MAKE SOMEONES DAY.
BE THE LIGHT, SHINE YOUR BEACON ACROSS THE LAND, GUIDE ALL WHO HAVE STRAYED HOME SAFELY, BACK TO THE ETERNAL LOVE.
PERSISTENCE PAVES THE WAY TO THE END RESULT THAT YOU ALL SEEK, THE FINAL RESULT IS UNIMAGINABLE, INCOMPREHENSIBLE FOR WORDS ARE NOT ENOUGH TO DESCRIBE GOD'S LOVE.
Here are some more pictures.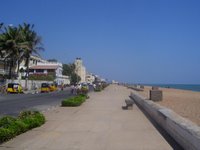 A view of the promenade, Pondicherry.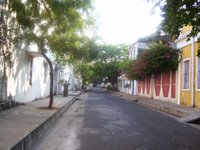 One of the streets in Pondicherry.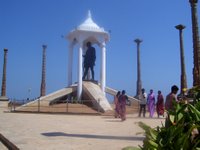 A memorial to Gandhi, Pondicherry beach.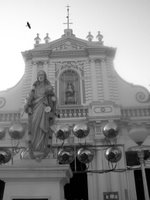 One of the large churches in Pondicherry.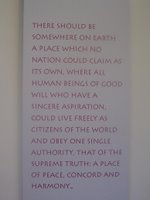 These beautiful messages were placed around the walls in the information centre in Auroville.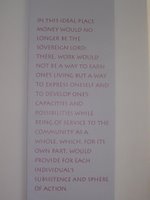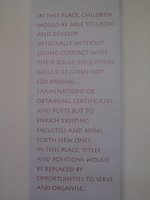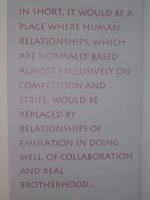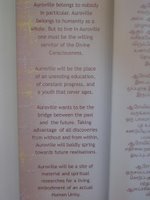 As you can see the original messages are wonderful, its a shame not many are being fulfilled.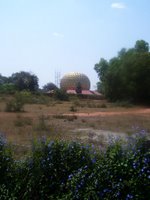 A view of Aurovilles famous Matrimandir, which contains a meditation centre lined with white marble and housing a solid crystal.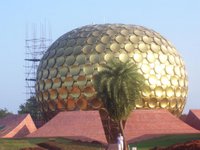 This is the closest I could get and take a photo, they have a guard patrolling the area. We weren't aloud in because we weren't Aurovillians, then he told us if we wanted a past we had to go back somewhere else and see if we were accepted to get one or something like that. So you can see there's plenty of rules and not much of a heart warming welcoming. One day we humans might get it right.