South India
Namaste to you all, well Im heading up north again along the east coast of India. Pam, Trev and I went to Madurai, its a large city with about 1.19 million people living there, so its time to get geared up again for the hustle and bustle of another Indian city. The reason we are all interested in travelling to Madurai is one thing and that is its wonderful, colourful temples. The Sri Meenakshi Temples are absolutely breath taking, with their intricate detail and amazing colours.
Throughout this time I had a chance to write some little messages while I was meditating, I hope you enjoy them.
TO FREE YOUR MIND, LET THE ETERNAL BREATH OF LIFE CALM THE CHATTER AND BEFORE YOU KNOW IT, PEACE WILL PREVAIL.
FORGE A BOND BETWEEN YOUR COSMIC EYE AND YOUR HEART AND THEN SIT BACK AND WATCH THE MIRACLES HAPPEN.
GIVING IS AN ACT OF GRACE, THROUGH GRACE PEACE IS ATTAINED.
MINDLESS CHATTER FRAGMENTS ALL ATTEMPTS TO FIND PEACE. STEADY THE MONKEY MIND AND PEACE WILL UNFOLD.
FINDING SOMEONE TO LOVE UNCONDITIONALLY IS EASIER THEN YOU THINK, JUST GET UP, WALK AND GAZE INTO THE NEAREST MIRROR, FOR THIS IS THE PERFECT PARTNER THAT YOU SEEK.
WHY IS CHANGE SO CONFRONTING FOR US, IT SHOULD BE THE ONE THING WE EMBRACE AND WELCOME WITH OPEN ARMS, FOR WHETHER WE REALIZE IT OR NOT, CHANGE IS INEVITABLE IN ONE FORM OR ANOTHER.
GOD SEEKS NOT FOR PRAISE, FOR PRAISE IS BORN OF THE EGO. GOD SEEKS NOT A THING OTHER THEN FOR US TO ACCEPT AND REMEMBER WHO WE TRULY ARE.
Here are some more pictures of what I felt were some of the most beautiful temples in all of India.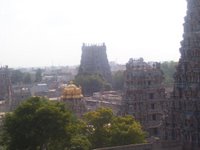 These Temples cover an area of six hectares, it was designed in 1560 by Vishwanatha Nayak, but its history goes way back 2000 years when Madurai was a Pandan capital.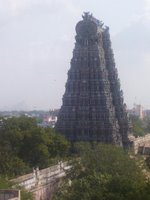 As you can see they're quite large as well, these shots are taken from the roof of our hotel.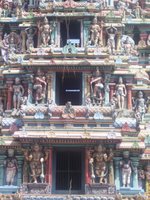 Just look at the work and the colours, I think they cover every deity in Hinduism.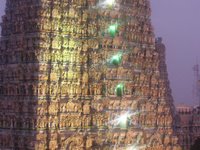 The temples by night.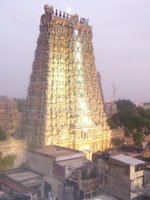 Late one evening.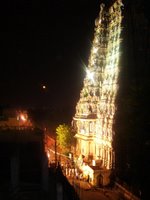 We were coaxed by an Indian man to see some spectacular lighting from a shop roof, ah fell for it again, he said some traditional ceremony was to take place at this gate, but after ten minutes we realized he just wanted to sell us something from his shop.