Well Over Diu, India
Namaste people, well I'm back in Delhi waiting to catch my plan to Goa for the Christmas break. I went back to the Internet cafe where I left my CD of Diu island and these wonderful men who run the cafe had kept it for me, very lucky. So here are the photos of Diu and stories of what I can remember of my time there.
It was strange seeing so much Christan architecture, after been surrounded by Hindu and Muslim architecture.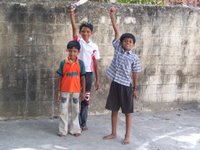 I was riding my moped down one of Diu's alleyways when I came across these boys doing one of the most religious ceremonies in India, yes you guest it cricket. I played cricket for about two hours, it's such a wonderful experience when you can join in with the local people, especially when their this age.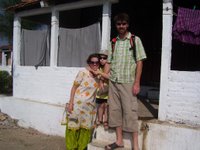 These wonderful people were a very inspiring family that I met at my hotel, this is Mike from Britain and his lovely wife Nadine who is from Switzerland. They have been traveling for about 17 months with their two boys Desmond in the photo and their littlest one Lenny who didn't want his photo taken. I can fully understand why Lenny didn't because unfortunately everyone wants to take photo's of the boys, and like us sometimes enough is enough and the beautiful thing about it is that Mike and Nadine fully respect what their boys have to say.
I got talking to them quite a bit about their experiences traveling with two young children. I found it quite inspiring, that they didn't let having children stop them from still experiencing traveling around the world. I was also very impressed with how Lenny and Desmond have taken everything in their stride. I mean it's not as though they've stayed in just Western countries with all the luxuries far from it, this wonderful family have been everywhere. They travel like any backpacker would.
Here are the places so far that the family has been, China I think for seven months, Turkey, Syria, Jordan, Thailand, Vietnam, Cambodia, Philippines and Pakistan. As you see not your run of the mill countries. They explained that they have travelled together for years before the boys were born and thought why not do it with the boys. As you can imagine all their experiences have been different then before because of the the boys. They get treated different, especially in the these countries because everyone loves children, so families just offer them to stay with them etc.
For me they were inspirational because it showed me that life doesn't have to end just because you have children like most people do and believe. I know now when I have a family if i still want to travel then I will. Can you just imagine how well adjusted these two wonderful boys will be when they get older.