Living and sharing with a Tibetan Family
Namaste to you all, as I write this its started to snow outside, the first day its snowed this year. So you can imagine its getting quite cold here, its certainly time to leave and hit the surf, yippee.
When I first arrived in India I met a lovely couple who gave me the number of a Tibetan doctor called Dr. Namgyal Qusar. I rang his clinic last Sunday and spoke to his wife, she said I was welcome to come and meet them and that they'd workout if there's something I could do to help.
So I left Mcleod Ganj and traveled to the little village that they live in. The villages name is Sidhpur, its just outside of Dharamsala. The village is known for a place called Norbulingka Institute, its a beautiful centre where they do allot of programs for the Tibetan people and their culture.
When I arrived I felt immediately welcomed, we had a chat and we decided while I stayed there, my job would be to teach their son and a few of their workers english. It's been such a wonderful experience living with these warm, kind hearted people and I've also had allot of fun, which is the most important thing in life, to experience as much fun as possible while we're on this planet.
As part of Rigsangs teaching(Dr. Qusar's twelve year all son) I asked him to interview his father.
So here it is,
Rigsang: What is your full name?
Dr. Qusar: Namgyal Qusar.
Rigsang: How old are you?
Dr. Qusar:Im 46 years old.
Rigsang:What is your occupation?
Dr. Qusar: I am a doctor of Tibetan medicine.
Rigsang: Where and what is your business name?
Dr. Qusar: I have a business in Dharmsala and its name is Qusar Tibetan Healing Centre.
Rigsang: Where were you born?
Dr. Qusar: I was born in a small village called Shangtse, which is in Tibet.
Rigsang: What is your father's and mother's names?
Dr. Qusar: My father's name is Msnlhamtsering and my mothers name is Dsnam Lhamo.
Rigsang: What is your wife's and children's names?
Dr. Qusar: My wife's name is Dr. Rallhse and I have three boys their names are, from my eldest son, Tensin Chsephel, Tensin Rigsang and my youngest son's name is Tensin Karma.
Rigsang: How long have you been a doctor?
Dr. Qusar: I've been a doctor since 1987.
Rigsang: Do you love your job? and what inspired you to become a Tibetan doctor?
Dr.Qusar: Yes I love my job and I was inspired to become a doctor when I was in my early twenties I became quite ill so I went to a Tibetan doctor, the medicine worked straight away so this was what i wanted to do.
Rigsang: How does Tibetan medicine help people?
Dr. Qusar: Tibetan medicine uses all natural products eg mainly herbs, and therefore its effective against chronic diseases.
Rigsang: Who originally started Tibetan medicine?
Dr. Qusar: Tibetan medicine has been around a very longtime. The founder was a man called Yutok Yucten Gonpo, they call him the father of Tibetan medicine.
Rigsang: Thank you for your time.
Who knows maybe Rigsang might go into journalism. Here is Dr. Qusar's website,
http://www.qusartibetanhealing.mypage.org/
and heres his email address
qusarheal@yahoo.com
. If you are interested in purchasing any healing products from Dr.Qusar, his website has all the details. It's easy to get what you want you just have to email him and he'll workout whats best for you and send it by post. I can certainly highly recommend him and his work, he is one of the leading Tibetan doctors in the world.
Now for some photo's.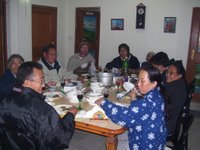 My first dinner with the family, they had some relatives staying with them. Guess where their from? yep Australia, they migrated to Melbourne a few years ago. So the house was full of Aussies.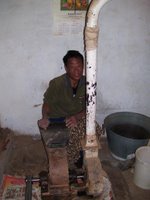 This is Dr Qusar's brother, he's making the dried herbs into a mixture.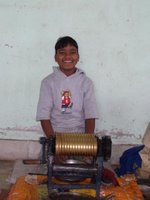 This is Krishna, he and other workers make the mixture into pills.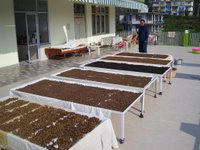 This is the finished product, thousands of Tibetan herbal pills drying in the sun.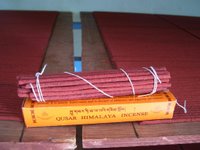 They even make their own special incense.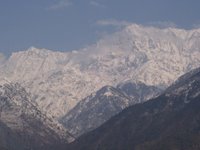 I think you'd all agree, not a bad view from the backyard.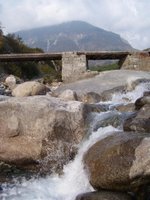 This was on the way back from the bakers shop, in the next village.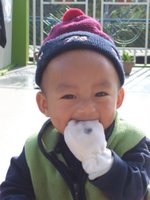 This is Karma, he's ten months old, he truly is an angel. He never cries he only giggles and smiles. I can certainly see the difference in a child when they are surrounded by family and love. Is it possible for men to get clucky? since being around this lovely baby it makes me want to start my own family.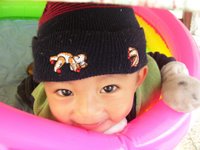 What a face, he would win any baby competition hands down.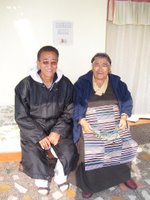 These two beautiful souls are the grandparents, their names are Mr Ngsdup Palden and Mrs Sherab Tsomo. I think they are called amala for grandmother and popala for grandfather. Amala is such a strong woman in mind, body and spirit, shes eighty years young.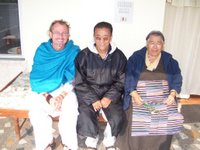 Nan, pop and me.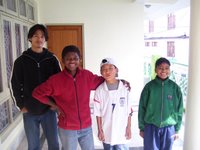 Now these four characters are the boys that I'm teaching english to. From left to right, this is Din he's from Thailand, Din's studying Tibetan medicine and is doing very well at it. Next we have Nyima dhondup, he's a servant, cook, mechanic and does just about anything else around the house. Next is Tensin Rigsang the doctors son and finally we have Krishna, he does a similar job to Nyima. I hope I've helped them learn something and they've got something out of the experience. This was on the first day when I met them. The next photo is when I'm just about to leave, boy I hope I've had a positive influence on them.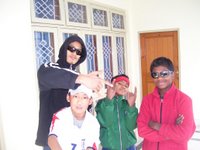 Yep, I think I left a pretty good impression, my work is done.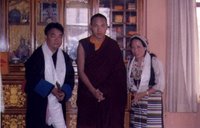 And finally we have Dr. Qusar and his beautiful wife Rallhse in traditional Tibetan dress, here they are visited by His Holiness the 17th Karmapa.