Postcard from India
Namaste everyone, Im giving a quick plug to some wonderful people I met in Pushka. I've also added some more photos of my travels.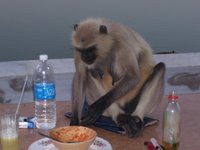 Local enjoying the food.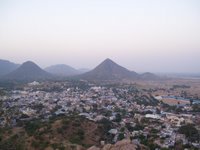 View from a temple Pushka.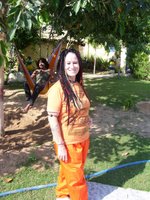 Diana has her own business in India, its called Hair Art. She does everything to do with dreadlocks. She's the best I've come across, she really knows her stuff. Diana did a wonderful job on repairing my dreads as well as added a few things to them eg. shells, beads etc. She works in Goa over Christmas at the flea market and while she lives in Mumbai, she works at Al's Tattoos. So if ever your in these area's give her a ring on 09326108738 or 09822487792.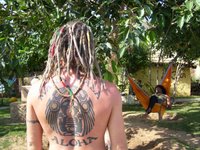 Me after the fantastic job by Diana.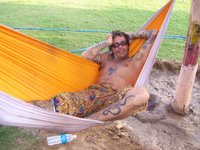 This is Dean, relaxing as usual, Dean is a tattoo artist, who uses the old traditional Maori technique. He uses one needle, no electricity. He's very passionate about his work, every tattoo is done like a ceremony. I watched him do a tattoo on a English guy and I must say his work is very fine. Dean also works in Goa, so if ever you come over and are wanting a quality tattoo done in the traditional way, look up Dean. His business is called Nagual and his website is, cosmicflorence2@yahoo.ca

Now here are some photos of some wonderful people I met in Pushka.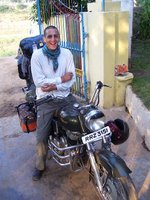 This is Airez from Israel, he's traveling around India on his motorbike. We hit it off like we'd known each other for ten years, his life in some ways was running in a parallel world with mine. I hope to meet up with him on Diu island in a couple of days. This island has beaches like the Bahamas and has one or two surfing beaches. So I hope to buy a surfboard and teach Airez surfing. Im looking forward to swimming in the ocean again, I realize now how I cant stay away from the beach for too long. I've been thinking lately of buying a bike myself when I get to Goa in Christmas. It sounds very freeing to be able to go where you like when you like, see what happens.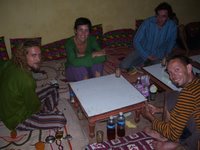 This from left to right is, Tristan, Pam and Trev. The three of them are from England, they only met each other in Pushka like myself. Pam and Trev are moving to Newzealand and thought they'd stop off in India before starting work. They've been many times to India like most people I meet, there's something about this place that once you come here you just want to keep coming back. I think I can say that India would be the most revisited country in the world. Tristan is a traveling around India by himself, he certainly fits in well, very calm and laid back. Pam and Trev taught us all a card game called sh*thead, we spent quite a few hours having a great laugh playing this game(I can safely say that by the time I left Trev was crowned King Sh*ithead, I think he lost eight times on the last day I was leaving, It maybe a world record).
Many blessings to all of you. Bakalema