India and the Power of Now
Namaste to you all, well I've arrived in Mcleod Ganj. In case some of you don't know, this is where the Dalai Lama now lives along with thousands of Tibetan refugees. Its a magical place, its at the start of the Himalayas. The air is fresh and clear and so is the energy.
I have posted some previous articles on how important being in the NOW is. Well my first story is about when I was in Delhi doing my last post. I didn't realize until I left Delhi that I'd left my CD with all the photos of Diu Island. I had a wonderful story about a inspiring family that I met on Diu, but alas no CD. I realized as I was doing the post I was also thinking of the train trip to Amritsar, instead of being in the NOW. I also realized that its a bad excuse when we say we forgot something, because its not that we forget, its really to do with thinking of past or future events instead of being in the NOW. Oh well all I can Hope for is when I get back to Delhi they kept my CD.
The next story is about really being in the NOW as well as how precious our lives truly are. I was meandering around the mountains heading for a small waterfall near a little village called Bhagsu. As I was walking I noticed a western girl walking about 20feet in front of me. The next minute bang, two large boulders a bit bigger then basketballs came crashing down, they just missed her by about two feet. I ran over to see if she was alright, she was, but was obviously shaken up. I asked 'what did she think of the whole experience?', she said 'that straight away she thought how easy life can be taken away from us, in one split second it can all be over'. I also added that 'this is why its so important to live your life doing what you love, not what you think you should be doing'. I also asked 'what she was thinking about at the time the boulders came crashing down?', she replied 'that she was thinking about the next place she was traveling to, instead of being aware of the beauty that was surrounding her at that moment'. I know for one when you stop and think about it, how many times we're walking through a forest or along a beautiful beach and guess what we're in our minds thinking about the future or the past, missing everything around us.
Here's a little saying I got while in India, LIFE HAS NO REWINDS AND NO FAST FORWARDS, IT UNFOLDS ITSELF AT ITS OWN PACE. SO NEVER MISS A CHANCE TO LIVE TODAY, TO MAKE A BEAUTIFUL STORY FOR TOMORROW.
Here's some photos of Amritsar, Amritsar is the holy city for the Sikhs. Its a beautiful place with wonderful people. Sikhism is certainly a wonderful religion, very open hearted and loving. After spending time in India I can certainly understand why Buddhism, Sikhism and Jainism started. Through my observations I find Hinduism has allot of flaws in it. Hinduism is the equivalent to the Roman Catholic Church. Its based around power and greed, most Hindus don't follow their beliefs, most of what I can workout its all for show. A huge portion of them are very materialistic and are locked fully in their ego's. So now after spending time here the people around Rajasthan, Delhi and these area's are no different to the western way of searching for fulfilment outside of themselves.
Here's some photo's of Amritsar.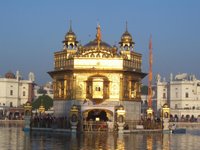 Golden Sikh Temple.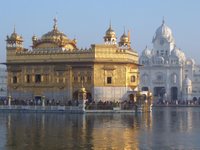 Golden Temple.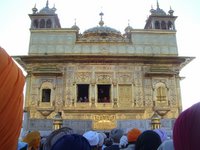 More turbans then you can poke a stick at.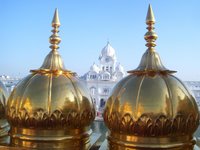 Golden Temple.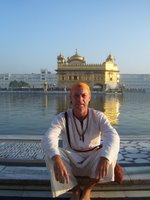 Who's that handsome lad? You have to wash your feet in the holy water and cover your hair before entering the temple grounds.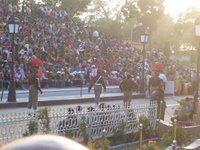 At the border between Pakistan and India, everyday both sides put on a show for the people. All the Indians shout and dance for their solders and Pakistan do the same, there's allot of testosterone flying around. I think just about everyday, they would pack the stands on both sides of the border.