Postcard from India
Namaste everyone, well I've been traveling for about almost a month now, boy has it gone quick. Allot of healing has come up over the past couple of days. I left Pushka on the 31st of October, by this time the next onion layer had come to the surface. My higher-self had told me, that going to India was going to help me heal my major core wound and that is anger. Throughout my life this anger has shown its head in different forms. I actually thought I'd healed it years ago, but no it surfaced about 4 months ago in a different form.
By the time I'd left Pushka it was really in full swing, I was going in and out of having an open heart, loving everything and everybody, to completely shutting down and not wanting to talk with anyone. I arrived in Jodpur, in the afternoon went to a good guest house, which eased the emotion I was going through thank god. The next day after meditating for quite a while in the morning I visited the huge fort that overlooks the whole city. It certainly was impressive and I think just spending that morning alone with no one hassling me really shifted the energy I was feeling.
On top of the mountain I contemplated about some of the belief systems I had taken on over the years. One of them that came to my attention was about forgiveness, I had allot of emphasis on this over the past couple of years. I also had a full belief system in that there is no such thing as good and evil, no such thing as right and wrong etc, etc. Well I fully realized how contradictory this is, to forgive someone or even yourself as I used to do is to say that they have done wrong or that you have done wrong. I realize whole heartedly that there is nothing to forgive it just is. I believe acceptance is a better path to take and maybe (sorry Christians), forgiveness was made up by the church.
Accepting all that is, I know now heals these parts of ourselves that we try and fix, avoid, make wrong and so on. By accepting where your at in every moment, accepting and loving these parts within and those outer experiences that in our life, helps ease and centre your being. When we are at ease and centered then we can be more aware of what's really going on, not what we perceive is going on. In other words see life with a higher awareness that helps you make choices that for your highest good.
Now I'll put on my travel agent cap, Pushka is a lovely place, for the girls there's plenty of shopping to be had, from jewelry, clothes and just about anything else you can think of. I can recommend staying at the Lotus Hotel across the lake, great view, very quite and great staff. Because of the festival they put up their prices so we went to the Moon (old) Cafe, now its just before the bridge you take a left, now this is very important, do not go in the first one its called the Moon Cafe as well (don't ask) its dirty, dearer and the staff are unfriendly, go ten meters past and walk up the path. The gardens are quite nice its all freshly painted, very clean and the staff are absolutely wonderful.
In Jodpur I stayed at Yogis Guest House, its clean, foods good and the view is great. There's really not that much to see around Jodpur except the beautiful fort and a few palaces. I only spent one day here and left for Jaisemer. Its well know for its camel safaries, I did the camel desert trip for two days one night, believe me you wouldn't want to go any longer. I've been walking around for two days now like a cowboy, very sore. I've now arrived in Udaipur, its wonderful, very clean and quite. Now I went on and overnight bus, it was hell, the roads coming here were like goat tracks, so trying to sleep in your sleeper was impossible, never again. Oh one good tip for the boys, some of these buses hardly stop, so its hard to go to the toilet, I took an extra water bottle with me so I could pee in it. It certainly was trickier than I thought, but it worked, are its good to be a man LOL. There was a girl in the next cabin who had to wait for about three hours, along time to hold on if your busting. Oh yeah fellas don't mix your water bottles up in the dark, I woke up half asleep and nearly drunk the wrong liquid LOL.
Next post I'll write about the healing I had in the desert, very moving for me and heart opening. Here's some pictures. Many blessings to you all and much love. Bakalema.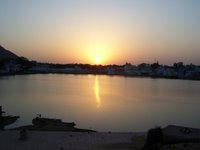 Sunset over the holy lake at Pushka.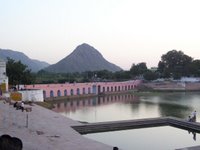 Pushka.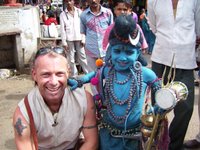 Told you all I'd find God and it only cost me ten Rupees.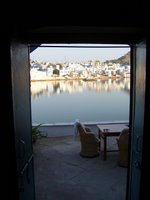 View from my room, Lotus Hotel.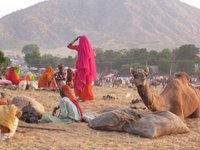 Camel festival.