Happiness in Hampi, India
Namaste to you all, well I'm a bit behind in my posts, since Hampi I've covered allot of territory. I've now arrived in Varkala, which is in the south of India, in a state called Kerala. I've been traveling the whole time with Frank, we certainly have seen many different places and landscapes.
After Hampi we journeyed to Banalore, Sravanabelagola(try saying that one ten times quickly), Mysore, Ooty(which is in Tamil Nadu state), Kochin and now Varkala. Varkala is paradise, its not as crazy as Goa, but still has that beach scene, the water is absolutely beautiful and clean.
For myself I've found allot of old emotions coming up and allot of tests. Most of the southern Indians are wonderful, happy, friendly people. Unfortunately there are quite a few that test your patients and your boundaries. I mean I feel in my heart that this is the lesson for everyone that comes to India, to fully learn patients and to try and remain calm and open hearted. It's also big for women, I believe India help's them speak their truth, to not let people walk allover them especially men. So emotionally India has allot of things to offer you, I've fully realized that each country has it's own gifts to help heal you. You would be naive if you think that you don't physically have to go anywhere or do anything to fully heal yourself and to overcome any patterns that you have created. I know this for a fact( remember how I talked about experiential knowledge), believe me that you could not find a better place to heal inpatients and setting your boundaries. I know that we can have simular experiences in our own country, city or even in our own home, but I guarantee it wouldn't be as full on as India. So as I say why do things half hearted, why not go all the way and dive right in.
Here are some more photos of Hampi, I've dedicated two posts to this place because it was so special.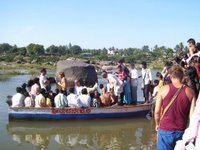 When you get to Hampi there is the main town on one side of the river and a small number of guest houses, Internet cafes and restaurants on the other side. Its allot quieter across the river and a boat is the only way to get across, it doesn't matter what form of transportation you get in India its always packed.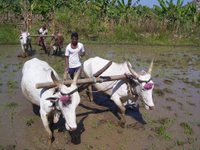 As you can see they still use traditional farming methods.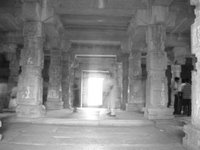 Me just playing with my camera in another temple.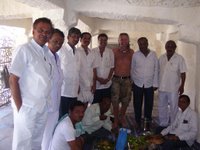 On one of the days Frank and I were checking out some temples up in the hills. We came across a temple devoted to Lakshmi. As we came out of the temple these guys were having a huge feast to celebrate some holy day. They invited Frank and I to join them, it's very humbling when you get to partake in any spiritual ceremony or holy activity. We spent around two hours with these guys, they were wonderful to us.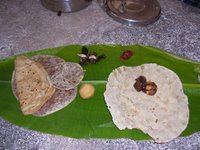 This is some of the food that was served to us. Some of the dishes were only made on that holy day once a year, so we felt quite privileged to share their holy food.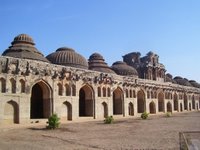 These are the elephant stables near the kings palace.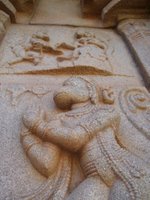 All temples are covered with carvings of deities and daily Indian life.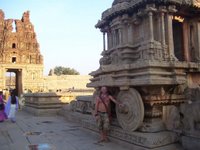 This is probably the most well known piece in Hampi, its a stone chariot.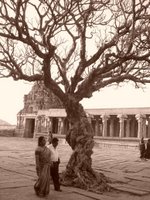 This tree I thought was stunning, it made it all the better shot with this beautiful Indian couple.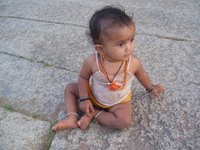 I found this little one out the front of one of the temples.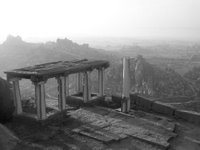 This was the highest and the last temple I visited in Hampi.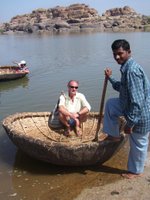 We found one of the traditional boats downstream, it certainly was a more pleasant journey.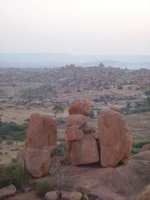 One more shot of those strange rocks.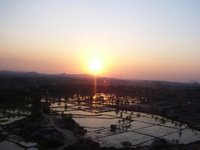 The final setting sun on a magical place.