Australian Cricket Team Scoop
Well, well what can I say, for most of you, you wouldn't understand but for those who love cricket you would be salivating at what your about to read and see. I met an Aussie girl in the morning and in our conversation cricket came up she told me that her brother received a tip that the Australian and England cricket teams would be staying at a five star hotel ten minutes from where we were staying. You didn't need to tell me twice, so off we went in our best backpacking clothes(old jeans and wrinkled shirt to the most luxurious place in Jaipur).
We came to the first gate heavy armed guards everywhere, they asked what we wanted, to have dinner of coarse, they looked us up and down and allowed us to pass. With a spring in our step and confidence at a high no one was going to stop us. Straight into bar we strolled. First we see the English cricket team, we walk up to the bar and casually lean on it, 'your cheapest beer kind sir'. Katheryn went straight up to the English players had a chat got some photos, and came back. My pride was to big to talk to the enemy.
We waited for about and hour but in the meantime we were introduced to the head of the ICC sercurity a very friendly guy he said he'll get us free VIP tickets so we can rub shoulders with India's elite. How good is that, boy is the universe looking after me. Next the big one, in come the Aussie team a few quick snaps, a few hello's to the boys and they were gone. Ten minutes later they came back down and sat at the bar. We waited a whole five minutes and straight over we go, I soon realized they were tired so I didn't hassle to much. I got a few photos and had another chat with a few more players. I asked if I could get a photo with the Australian captain and vice captain(Ricky Pointing and Adam Gilchrist) and here they are. They were all very humble and friendly, a fantastic night was had by all. Off tomorrow to the game we go, Aussie, Aussie, Aussie, oi, oi, oi.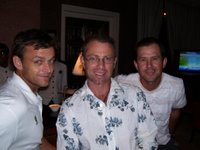 Me and my mates Adam and Ricky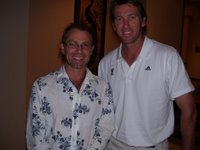 Me and my old mate Glen
These are from the game a couple of days later.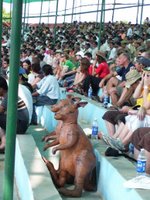 Some Aussie supporters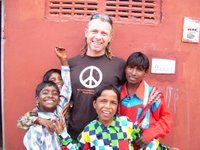 Me and the boys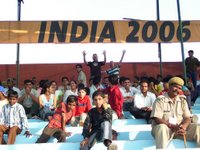 At the game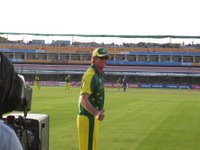 Another of my mate Glen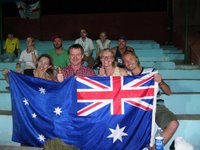 Great Aussie support
As you see I've had a couple of wonderful days in Jaipur. I've arrived in Pushka, a beautiful little town. I'll write more about Jaipur and post some more pictures of temples and forts.